Medi-Cal Income Test
As of January 1, 2022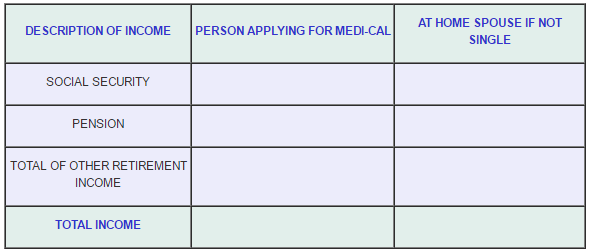 Do not include investment or interest income for these calculation purposes, only Social Security, Retirement and other Pension type of income.
LIST OF OTHER INCOME THAT YOU OWN AND IS NOT LISTED ABOVE (Be sure to advise your attorney or financial advisor of these assets too, to determine how they should be categorized and protected):
Medi-Cal Asset Test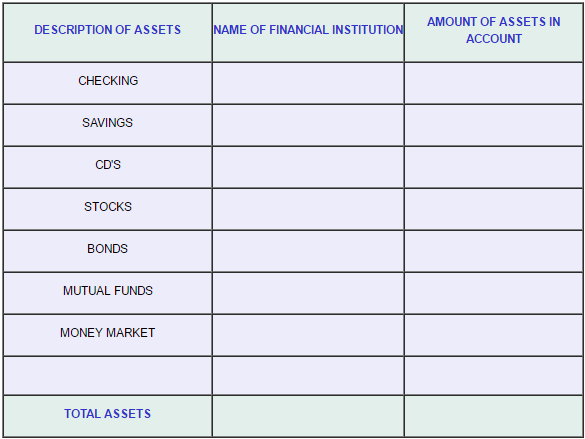 Insert actual or estimated amount of assets for each account and round to nearest dollar for calculation purposes only.

Use "blank" description of asset column for other accounts or multiple accounts not listed above.

Combine accounts if necessary (i.e. all checking accounts, all savings accounts etc.) so that all assets are included in table above.

TAX DEFERRED ASSETS such as IRA's, 401K's, Annuities etc., may be counted as an asset and not an exempt asset UNLESS you are taking the minimum required distribution as required under the current IRS rules. Discuss this issue with an Elder Law Attorney or a knowledgeable senior financial advisor.

OTHER REAL PROPERTY: If you own more property than your home, you will need to consult with an attorney to determine if it is "exempt" as a rental property OR if it can be legally protected in a different manner.
LIST OF OTHER ASSETS THAT YOU OWN AND IS NOT LISTED ABOVE (Be sure to advise your attorney or financial advisor of these assets too, to determine how they should be categorized and protected):